Audi MMI USB/SD Card Audio and Video Format
USB stick won't play in my new Audi A3. I copied some pop music (.flac, .ape, mp3…) to the USB flash drive, but my Audi A3 can't read some of them. Why? How to solve the problem? If you can't listen music on Audi MMI, can't play movies with Audi MMI, this article will be helpful.
What is Audi MMI?
Audi's in-house infotainment system has been known as MMI, or Multi-Media Interface. Smartphone-like interface, natural voice-control, and so on. MMI or Multi-Media Interface has been Audi's in-house infotainment system for about two decades. MMI controls all of the car's audio, communications and navigation functions. These features do vary depending on which specific Audi you buy. Audi models equipped with MMI Navigation plus can wirelessly link to BLUETOOTH-enabled mobile phones and audio devices, giving you hands-free access to many of their functions. World automobile industry forms a tripod complexion through three times of the transfer of power position. BBA's communications and entertainment system are playing a decisive role in the automotive field. The BMW iDrive system had set the benchmark for infotainment systems but we reckon now the latest system in Mercedes, called MBUX, is the best around.
Can't Play music with Audi MMI
Does the Audi MMI play FLAC file on an SD Card? Audi MMI USB Unreadable? In order to make driving more fun, we often listen to our favorite music in the car, and passengers enjoy movies in the car. Bluetooth, USB flash drive and SD Card are our common tools to enjoy music and movies in our car. However, they all have the problem of low compatibility. This makes it impossible for us to play audio and video normally. There are many audio formats in the world, such as MP3, WAV, WMA, APE, FLAC, M4A, AAC, AC3, MKA, OGG, MP2, MPA, AIFF, DTS, AU, etc. If you plan to play these audio files with MMI, you have to convert them to Audi MMI supported audio format, MP3, AAC and WMA are good options.
Can't Play MKV, AVI, MOV, WMV and MP4 moviees on Audi MMI
How to play downloaded MKV, AVI, MOV, WMV, MP4 movies and Blu-ray/DVD on MMI? It's boring for children to stay in the car for a long time. If they can use the car audio-visual system to play some cartoons, it will let them pass the boring time. If you have MMI 3G High or Plus unit you are able to play videos from SD Card's – however they must be converted to the right format and resolution. H.264 MP4 is your best choice to play videos in Audi models.
So for playing music and videos in car from USB and SD card without any problem, we have to convert the audio and video files to Audi MMI supported format and codec. Which software can do the audio conversion for free? Acrok software is highly recommended.
Free Audio Converter abd best Video Converter for Audi MMI – Acrok Video Converter Ultimate
Acrok Video Converter Ultimate (Windows Version | Mac Version) can help you convert video/audio in virtually any format and popular devices. It supports over 200 formats, including 4K, Blu-ray, DVD, H.265, H.264, MKV, MP4, MOV, AVI, 3GP, SWF, MP3, AAC, AC3, FLAC, AIFF and OGG. It also provides complete preset profiles for smartphones, tablets, smart tvs, etc.
Free download Acrok software for Audi MMI
Supported Models: A1, A3, A4, A5, A6, A7, A8, Q2, Q3, Q5, Q7, Q8, TT, RS/R8, RS3, S3, S4, RS 5, S5, S6, RS 7, S7, S8, A8 L, e-tron GT, RS e-tron GT, SQ5, etc.
– Use a batch mode to convert or compress a large number of audio files at once.
– Convert MP3, WMA, WAV, M4A, AMR, OGG, ALAC, FLAC, AC3, MP2 for MMI.
– Export audio from video files Blu-ray, DVD, MPEG, MP4, AVI, MOV, WMV, FLV, etc.
– Create ringtones: Edit an audio file and save it to common format for smartphone.
– Convert Blu-ray, DVD, MKV, MP4, MOV and other formats to MMI supported video format.
– Customize the output resolution to match different versions of the MMI system.
How to convert downloaded music to Audi MMI supported audio format?
1. Run Audi MM free audio converter, click add files icon to load your audio files.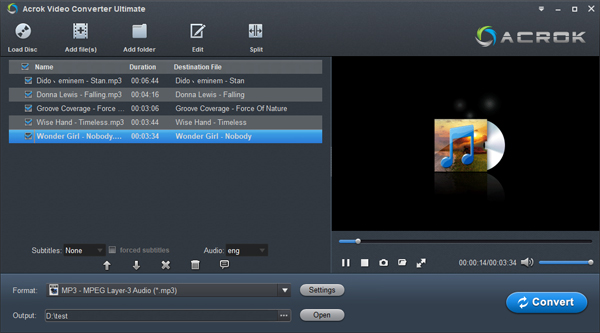 2. Set output format. Please follow Format > Common Audio > MP3 – MPEG Layer-3 Audio (*.mp3), then click Ok.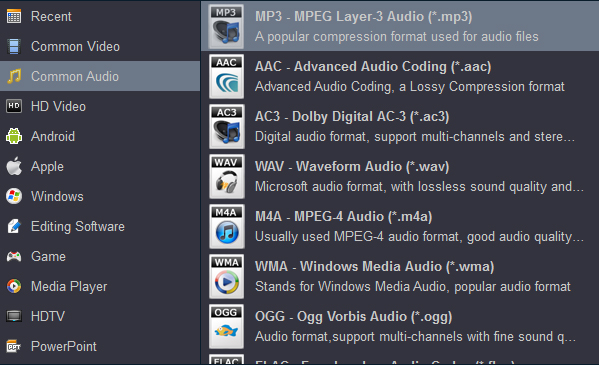 3. Click Convert button to start converting music to Audi MMI compatible format.
When the conversion is done, click Open button to locate the converted songs. Connect you USB flash drive or SD Card to you PC, teansfer these audio files to it.
How to convert video/DVD/Blu-ray for playing with Audi MMI?
1. Run Acrok software as the Audi MMI Video Converter. For loading videos, please click Add file icon, for loading Blu-ray and DVD files, please click Load Disc icon.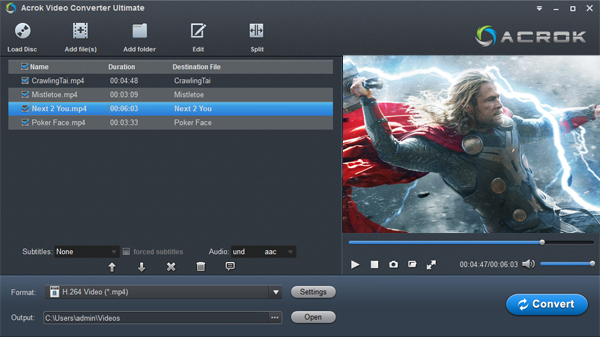 2. Click Format bar then select H.264 MP4 under Common Video category.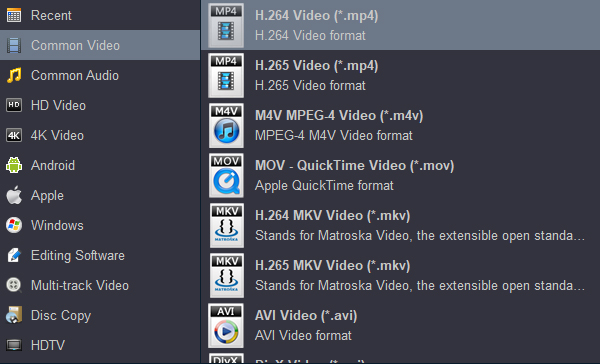 3. Settings: For playing vidoes in your car smoothly, you need to make some simple settings. For example, resolution, video bit rate, etc. If you don't know your resolution, please refer to the manual or call the car dealer.
Tip: Audi MMI Resolution
MMI Mib3
10.1-inch screen resolution – 1920×720
12.3-inch screen resolution – 1920×720
12.3-inch screen resolution – 1,440 x 540
MMI Mib2
8.6-inch screen resolution – 1,280 x 660
MMI 2019
12.3-inch TFT screen resolution (1,920*720)
10.3-inch TFT screen resolution (1,440*540)
8.6-inch TFT screen resolution (1,440*540)
MMI 3G+ (Connect)
7-inch TFT color display VGA resolution (800*480)
MMI High 3G (A8 Rear Seat Entertainment;7T6+9WP)
7-inch TFT color display VGA resolution (800*480)
MMI 3G/3G+ (HD;7T6)
7-inch TFT color display VGA resolution (800*480)
MMI High 2G (DVD-Rom;7Q2)
6.5-inch TFT color display 1/4 VGA resolution (480*240)
MMI 3G Basic (DVD-Rom;7T2)
6.5-inch TFT color display 1/4 VGA resolution (480*240)
4. If you do not have other advanced and personalized settings, just hit Convert button to begin converting desired videos to Audi MMI readable video files. When finished, the output file is ready for being transfred to USB flash drive or SD card for playing.
Extended content: Explore models with MMI touch response
2021 SQ5 Sportback
2022 e-tron GT
2022 RS e-tron GT
2020 A3 Sedan
2020 S3 Sedan
2020 RS 3 Sedan
2021 A4 Sedan
2021 S4 Sedan
2021 A5 Sportback
2021 S5 Sportback
2021 RS 5 Sportback
2021 A6 Sedan
2021 S6 Sedan
2021 A7 Sportback
2021 S7 Sportback
2021 RS 7 Sportback
2021 A8 L
2021 S8
Conclusion
So far, here's the step-by-step tutorial guide of using Acrok Video Converter Ultimate to convert audio and video to MMI supported format. Isn't that easy? With reading this article, you may find that the question of "how to convert music and downloaded movies to Audi MMI" will no longer bother you, and this is the best way for you to enjoy glorious media in your car. Hope my recommendation is helpful to you, try yourself and enjoy your media via MMI!