OnePlus 9 Video Format – Best Video Formats Supported by OnePlus 9
"The video files on my laptop are .mkv and .mov file format. The problem is how could I play the downloaded 4K/HD movies on OnePlus 9 with ease? Should I convert them to OnePlus 9 supported video format or download a new media player on OnePlus 9? Does anyone know one program to solve this trouble? Thanks."
"I downloaded some 4K MP4 movies, but my OnePlus 9 can't read it. Should I install a 4K media player on my OnePlus 9 or convert 4K MP4 to OnePlus Compatible format?"
CONTENTS
CONTENTS
About OnePlus 9
OnePlus has been one of the most exciting smartphone manufacturers in the past few years, and everyone is looking forward to the next device the company would throw at Samsung and Apple. Unlike previous years, OnePlus is expected to launch three new devices as part of the OnePlus 9 series – the regular OnePlus 9, the flagship OnePlus 9 Pro, and a more-affordable OnePlus 9 Lite/9E/9R.
OnePlus has revealed its new 6.55-inch OnePlus 9, giving it 1080 x 2400 resolution. The high resolution makes OnePlus 9 an outstanding portable device for watching downloaded movies like MKV, AVI, MP4, M4V, WMV, VOB, MOV, MPG, etc.
The official site of OnePlus claims that its devices can support a wide array of formats like MKV, MOV, MP4, H.265(HEVC), AVI, WMV, TS, 3GP, FLV, WEBM. However, many users still face a situation when they are not able to play many MKV, AVI, MP4, MOV and WMV on OnePlus 9 and other OnePlus devices. When you play movies files on OnePlus 9 , there are errors displayed like "Error viewing the video" or "Sorry, this video cannot be played." So if you are also facing the same problem and looking for a solution, you are on the right page.
OnePlus 9 Supported Formats
The range of video formats that are supported by your OnePlus 9 to play or record is different. To eliminate confusions that unlucky OnePlus 9 users may have, below we will list the detailed OnePlus 9 compatible video/audio formats according to OnePlus 9's official statement.
Video Supported Formats:
Playback: MKV, MOV, MP4, H.265(HEVC), AVI, WMV, TS, 3GP, FLV, WEBM
Recording: MP4
Audio Supported Formats
Playback: MP3, AAC, AAC+, WMA, AMR-NB, AMR-WB, WAV, FLAC, APE, OGG, MID, M4A, IMY, AC3, EAC3, EAC3-JOC, AC4
Recording: WAV, AAC, AMR
As container format, MP4, MKV, AVI, MOV and WMV has become increasingly popular, due to its obvious feature of containing numerous high-quality videos, audio, image, and subtitle tracks into one file. Yet popularity does not represent high compatibility. Many mobile devices like OnePlus 9 cannot support some downloaded MP4, MKV, AVI, MOV and WMV video files.
Want a BD player for OnePlus 9 to watch Blu-ray and DVD movies on OnePlus 9? You might be no luck after search around. Actually, you are not able to play disc on OnePlus 9 directly. You have to first rip Blu-ray and DVD movies to OnePlus 9 supported format, and then transfer them to OnePlus 9 to play them with default media player.
Best Video Formats Supported by OnePlus 9
Which video format is the best playbak format for OnePlus 9? To play videos in other video formats (such as AVI, MKV, M4V, MOV, WMV and FLV), you need a video converter or multi-format video player. However, the video quality varies from format to format, even when playing with the same video player. It is best to convert videos to MP4 format to avoid a poor quality viewing experience. So, H.264 AAC MP4 is the best format for playing on OnePlus 9. Which software can convert Blu-ray, DVD and downloaded MP4, MKV, AVI, MOV and WMV to OnePlus 9 supported format?
Best Format Covnerter for OnePlus 9
Acrok Video Converter Ultimate is an all-in-one Video/Blu-ray/DVD converting tool that is specialized in perfectly removing the protection restrictions and extracting the movies of Blu-ray/DVD disc and rip it into a proper format you desired. What's more, with inbuilt powerful video editing features, you could get your personalized video with the best output quality for Blu-ray/DVD movie entertainment on OnePlus 9. Importantly, it comes with several device-targeted presets, which are especially useful for those who want to play Blu-ray or DVD movies on OnePlus 9 directly.
It is an easy-to-use and high-efficiency program that helps you batch convert almost any video including MP4, MKV, AVI, MOV and WMV to OnePlus 9 highly compatible file type. The equivalent Mac version is Acrok Video Converter Ultimate for Mac, which enables you to encode videos to OnePlus 9 on Mac OS X (macOS Big Sur inlcuded).
Free download best Video Covnerter for OnePlus 9
Note: If you plan to play iTunes moveis on OnePlus 9, you need to both unlock the iTunes movie DRM and convert M4V to OnePlus 9 friendly MP4 format. To do this, you need an all-in-one DRM removal and video converter. M4VGO is you best choice.
How to batch convert MP4, MKV, AVI, MOV and WMV to OnePlus 9?
Step 1. Add video files
Launch the Format Converter for OnePlus 9 program and add MP4, MKV, AVI, MOV and WMV videos in the following two ways:
1 > Click Add button to choose video files from your hard drive for converting.
2 > Directly drag the movies you want to convert to the left item bar.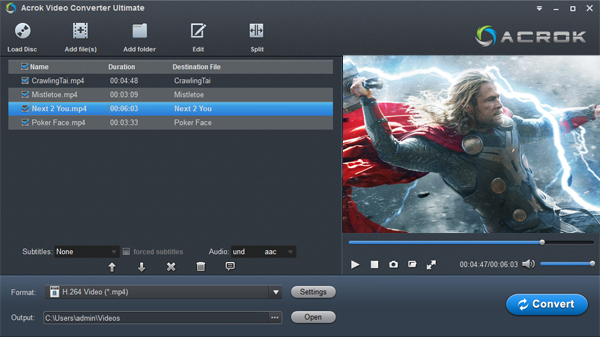 To save your time, you can add multiple files for converting at a time since batch conversion is well supported.
Step 2. Choose output format
Click "Format" bar, you can easily find the optimized videos for OnePlus 9 under "Common Video > H.264 Video (*.mp4)". The output videos could fit on your OnePlus 9 perfectly.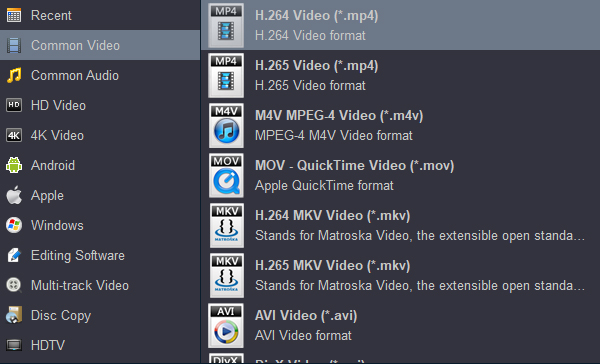 Step 3. Start OnePlus 9 video conversion
Finally click on "Convert" button of the best OnePlus 9 Video Converter to start encoding MP4, MKV, AVI, MOV and WMV to H.264 MP4 for OnePlus 9. Once the conversion finished, transfer the converted video files to OnePlus 9 for enjoyment on the go.
How to rip and convert Blu-ray/DVD to OnePlus 9 playable format?
Step 1. Install and Launch BD Covnerter
Before the start of ripping Blu-ray/DVD disc to OnePlus 9, make sure you have a BD-ROM drive and enough disk space to reserve for storing converted video files. Then download the program, follow the wizard to install and run the Blu-ray/DVD to OnePlus 9 converter. After that, insert a disc to the BD-ROM drive.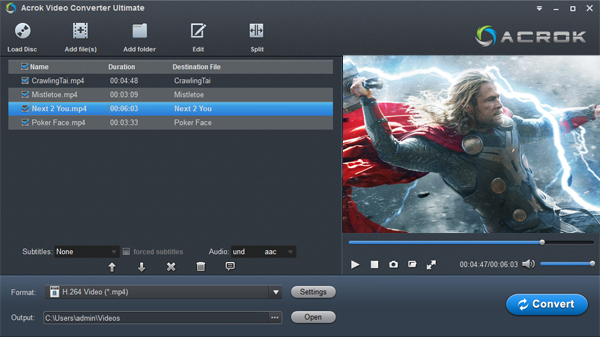 Step 2. Add Disc to the Converter
Click the "Load Disc" button on the top left to add the Blu-ray or DVD files into the OnePlus 9 Format Covnerter. The whole Blu-ray ISO, Blu-ray folder, DVD ISO/IFO, DVD folder, are also supported. After loading, the program will detect the main movie for you.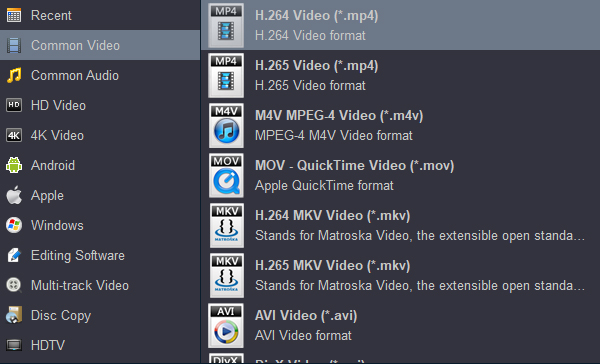 Step 3. Set Output Format & Parameters
This best Blu-ray Ripper provides a completely different category of output formats. You can click "Format" to choose an OnePlus 9 friendly format, e.g. MP4 for BD conversion. Or you can go to the left device part lists where you can find almost all progiles such as Android, Apple, Windows and more. Please select H.264 MP4 here.
Step 4. Start to Rip Blu-ray/DVD
After making all the settings, click "Convert" button to start converting Blu-ray/DVD for playback on OnePlus 9. The conversion task will be finished in a short time due to its speed-up function. After that, the ripped movie will be located directly by the preselected "Open" option.
Step 5. Transfer Converted Video to OnePlus 9
Now connect your OnePlus 9 with PC via Wi-Fi or through USB, and easily copy resulting movie from the output folder to OnePlus 9. Then you can view Blu-ray and DVD on your OnePlus 9 for more enjoyment on the go.