Adobe Premiere Pro CC, is one of the most common professional video production suites for Mac and Windows users. Comparing with its predecessor elements and Premiere, it adds native support for MXF files from Sony, Panasonic and Canon, and also includes XAVC files from Sony F55 series. This new features immensely enhanced user operational feasibility so that we can import MXF video from camera to Premiere Pro CC without log and transfer.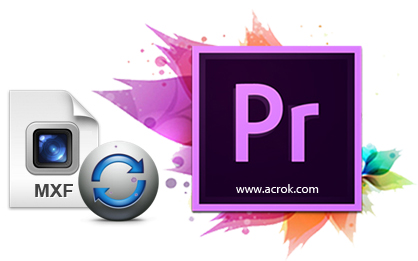 But still there are lots of videos that cannot be imported for that it's not the appreciated formats by Premiere Pro CC, for example, MXF files from CanonXF series/Panasonic P2/Sony XDCAM, XAVC S from Sony, etc. So here comes the problem:
How to import MXF videos into Premiere Pro CC without rendering?
Follow this step-by-step guide to quick import MXF to Premiere Pro CC.
Step 1. Launch Premiere Pro CC; connect your camera to Mac.
Here we test with Premiere Pro CC 2014.0. Use a USB cable to connect your camera to Mac and keep it on.
Step 2. Import videos from camera to Premiere Pro CC
Click File>Import>Media, it will pop up an import window;
Find your camera on top left, hit Command and click the clips you want to import.
Step 3. Create new event for this importing or add them to existing event.
After checking all the clips you want to import, hit return and free choose to create new event for Premiere Pro CC or add to existing event. It offers several options to let you optimize video as Premiere Pro CC prefers, enable Remove silent channels and so on. Check them as your own needs, and then hit return.
Step 4. Edit clips in Timeline.
After last hit you will find the clips are showed on the left "All Clips" area. Sliding your cursor to trim out a small part in these clips and hit Shift-Y to add them in timeline; or you can right click it and choose "Open in Timeline".
Ok now you successfully import videos from camera to Premiere Pro CC, new skills get!
Trouble Shooting:
Well, all the work flow is based on the assumption that your camera/camcorder is recognized by Premiere Pro CC. What if it doesn't go through as above?
If your camera or device isn't recognized; unsupported MXF formats?
If you've connected your camera/camcorder to Mac but the MXF Media Import window doesn't open, or Premiere Pro CC Can't control your camera/camcorder, here are some steps that you are suggested to try:
1. Your camcorder or camera should be compatible with Premiere Pro CC. Follow this page to track Premiere Pro CC supported video cameras.
2. You should ensure the camera/camcorder on and well connected to Mac.
3. If you are importing from flash memory devices or from Mac HDD directly, please ensure the files format is MPEG-2, H.264 or WMV which are compatible with Premiere Pro CC.
Hereby if we want to edit video from a camera that Premiere Pro CC doesn't recognize, at least we need to transcode the MXF videos to formats that Premiere Pro CC likes, so that we can still import them into Premiere Pro CC use a card reader. How to do the conversion? Is that reliable?
You can read this Guide: Import MXF video into Premiere Pro CC