Capture the finest details and your most thrilling moments in true 4k (3840 x 2160) video. The FDR-X1000V 30p/24p allows incredibly high resolution, to produce vibrant and extremely realistic images.
If you plan to edit Sony FDR-X1000V 4K XAVC S video in FCP X, you need to read on this guide and you can learn how to convert Sony FDR-X1000V XAVC S clips to Final Cut Pro ProRes 422 video for importing FDR-X1000V 1080p MP4 to FCP 6/7/X with smooth editing. For Adobe Premeire Pro user, just keep reading.
The Action Cam is capable of shooting in 10 different shooting modes to create a diverse amount of looks to include 240p in high definition and 120p slow motion in FHD. Users can also select 240p in VGA for super slow motion video. Additionally, pro quality XAVC S recording with high bit rate of 100Mbps in 4k and 60Mbps in HD enables the FDR-X1000V to capture quick action with smooth image motion.
But, you may have problems when you want to import Sony FDR-X1000V recorded XAVC S files to Final Cut Pro or Premiere Pro for editing? XAVC S files are not well supported by FCP/Premiere on Mac due to the unfriendly codec and limitations on frame rate and bitrate, you can't edit the videos smoothly in these editing software.
How to solve this problem? As Apple Final Cut Pro best supported video codec and format is Apple ProRes 422 codec MOV format, so the best way is to convert Sony FDR-X1000V XAVC S to Final Cut Pro best supported Apple RroRes codec, then you can edit smoothly without rendering. MPEG or H.264 are the good editing codec for Adobe Premeire Pro user, so you can convert Sony FDR-X1000V video to MPEG/H.264on Mac. You can follow the guide below.
Hot Guides: Play iTunes movies and music on Galaxy S6
Easy steps to convert Sony FDR-X1000V XAVC S for FCP and Premiere Pro
1. Install and launch Acrok HD Video Converter for Macto dag and drop Sony FDR-X1000V XAVC S videos to this best XAVC Converter. Or, you can click the Add button to load your MP4 footage to the program.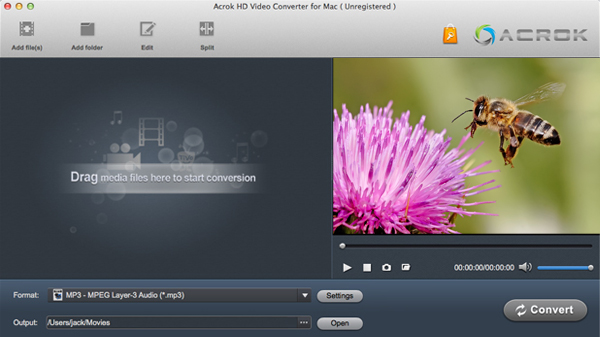 Press the Format box and select one of the Apple ProRes codecs on the dropdown list. You are advised to choose "Apple ProRes 422 (*.mov)"or "Apple ProRes 422 HQ (*.mov)" as the export.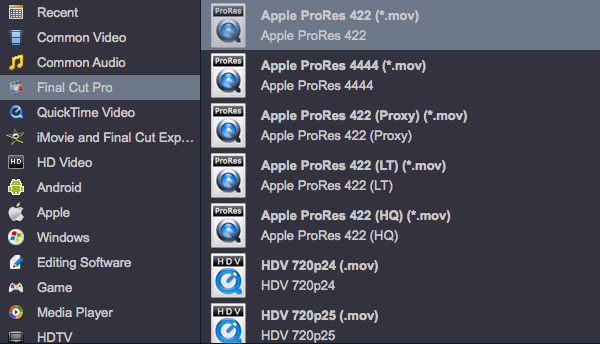 For Adobe Premiere Pro user, you need to choose "Editing Software > Adobe Premeire/Sony Vegas Video" as output format.
Click the "Settings" icon and you'd better set the video size as 1920*1080, video frame rate as 30fps(or 25fps PAL)for importing Sony FDR-X1000V XAVC S to FCP with the best quality.
Hit he button for "Convert" and start converting Sony FDR-X1000V XAVC S to FCP ProRes 422 .mov/MPEG video on Mac OS X (Lion, Mountain Lion, Mavericks, Yosemite) immediately.
Once the 4K XAVC S to Apple ProRes conversion finished, you can run the Final Cut Pro and click File –> Import –> Files to import the converted files and edit them in Final Cut Pro 6/7/X without any rendering or incompatibility problem. Of course, you can load the converted XAVC S video to Premeire Pro for editing.