Can't open MOV File in Vegas Pro 19/18/17 – Solved
Can't use 6K or 4K MOV files in Vegas Pro? This toturial below will teach you how to convert and import MOV files to Vegas Pro 19, 18, 17, 16, 15, 14, 13, 12 so you can make engaging movies with MOV videos.
Questions about can't open and edit MOV format in Vegas Pro
"My ousin Amy loves photography, poetry, architecture and documentaries. She is an excellent college student. She saved some money by taking a part-time job after class, and she used her savings to buy a new Nikon Z9. The problem is that although her video can be successfully imported into Vegas Pro, she can't preview the imported 4K video. I know that low software version will lead to such problems. How to fix Vegas Pro MOV importing issue on Windows 10?" – Smith, Owen
"How do I import an MOV video in Vegas Pro? Hi, I had purchased Vegas Pro 19 last week. Now I am planning to buy Panasonic Lumix BS1H which records 5.9K footage in .MOV format. I believe .MOV format is the basis for .mp4 formats as mentioned on the wikipedia. Would the Vegas Pro 19 be able to import and edit these videos in MOV format or I would require to convert them first. If I do not want to alter the video & audio format, what is the best way to change the containers?" – Somers, Robert
"Is there any way to use .mov files in Vegas Pro 18 without converting? The thing is, I want to use my camera recordings, and those are only available to me in a .mov format in 4K. I don't really wanna convert ~3hrs of 4K videos, so is there any sort of plugin that enables directly importing it?" – Barrett, Alexander
That is not news that the MOV video cannot play on some occasions. You can find problems like cannot play MOV video or show playing errors on your PC. Even someone has complained, "I would avoid the MOV file if there are other options". Want to quickly solve the problems and play it on any device, here are things you might need to be known.
Vegas Pro Pro. Some .MOV files load but others do not…
About MOV Format
A file with the MOV file extension is an Apple QuickTime Movie file that's stored in a QuickTime File Format container file. It stores one or more tracks that store different types of media data, such as video, audio, and subtitles. Like MP4 files, QuickTime MOV videos are encoded with the MPEG-4 codec. There are many cameras and camcorders can record .mov footage, and we can download some tv shows and movies from websites in .mov format. As a container format, MOV can contain number of video and audio codecs, such as MPEG-4, H.264, H.265/HEVC, MPEG-2, Apple ProRes, DNxHD, etc.
About Vegas Pro
Vegas Pro is the professional toolset for video editing, live streaming and sound design. It is is a Windows-compatible nonlinear editing software with vast sets of video and audio editing features. Vegas Pro 19 has debuted in 2021, and the popular NLE gets an updated UI, cloud-connected video and audio content, simplified pricing options, and much more. However, when you import MOV files into Vegas Pro, you may come across lots of problems, such as nothing shows up on the screen, or there is only image or you only get sound in Vegas Pro. Well, according to MAGIX, Vegas Pro only accepts the H.264 family, including MP4 and AVC/AVCHD, and also supports cutting-edge codecs like HEVC, as well as common professional formats like ProRes, XDCAM/XAVC and P2.
Vegas Pro 19 Supported Video/Audio Formats
Video: Blackmagic RAW*, HEVC/H.265, AVC/H.264, MP4, MPEG-2, MPEG-1, AVI, WMV, M4V, Sony XAVC / XAVC-S / XDCAM EX / HD 422 / MXF / ProDisc / HDCAM SR, MPEG IMX, DV, HDV, AVCHD, Panasonic P2, RED RAW
*Currently in BETA
Audio: AIFF, AAC, MP2, MP3, M4A, OGG Vorbis, WAV, WMA, FLAC
MOV Not Supported in Vegas Pro 19, 18, 17? Let's Fix It Now
We can solve the problem that the software can't recognize video in different ways. Such as Install QuickTime for Windows 11, 10, 8.1, 7; Manually Install Codec Pack; Upgrade Vegas Pro to the latest version; Rename the MOV files…
It has been previously announced that MAGIX Vegas Pro does work with and support MOV files. However, the MOV files setting and codec might differ from other MOV files that we have saved or exported from various devices, players or programs. If you are currently using an earlier version of the Vegas Pro, most people would recommend you to upgrade it to the latest version, so it would recognize the MOV file. It might not necessarily work in all cases as you might experience video glitches (i.e. such as slow playback speed or screen crash).
Maybe we don't have to make things so complex. To fix MOV file import errors, sometimes we just need to rename the file extension from .mov to .mp4, .m4v, .mpg, or other format. This trick does get some users out of trouble. However, it isn't guaranteed to work. Some people still can't load files to Vegas Pro 18, Vegas Pro 17 even the lastest Vegas Pro 19 successfully. Some people even are not allowed to rename the file extension for some reason.
If you're interested in how to edit with an MOV file, there's a simple answer. The trick for how to import MOV files into Vegas Pro 19, 18, 17, is to convert the MOV file to an editing-friendly codec first.
Best MOV to Vegas Pro Workflow – Transcode MOV to Vegas Pro best editting format
To get the work done, you can just get Acrok Video Converter Ultimate, which can help you convert 8K, 6K, 4K, 2K and 1080P MOV to Vegas Pro supported video codecs with optimized settings while keeping the video quality. In addition, it can convert all other popular video formats like MXF, MTS, MP4, WMV, MKV, FLV, AVI, WMV, ASF, M2TS, VOB, Blu-ray, DVD, etc. to Vegas Pro compatible video formats. What's more, you can do some simple cutting, trimming and merging before converting MOV files. This is very convenient for those who just want to import a tiny snippet of a .mov file into Vegas Pro and avoid converting the whole file. Now get the tool and add MOV files into Vegas Pro effortlessly.
Free download MOV to Vegas Pro Converter
Features of MOV to Vegas Pro Converter
Convert MPEG-4, H.265/HEVC, Apple ProRes, DNxHD MOV to Vegas Pro editable format Transcode other 4K footage for editing in Vegas Pro, including 4K MXF, 4K MKV, 4K Blu-ray, 4K MP4, etc. Encode 8K, 6K, 5K, 4K, Full HD video for hot editing software, such as DaVinci Resolve, Premiere Pro, After Effects CC, Premiere Elements, Windows Movie Maker, CyberLink PowerDirector 365, Avid Media Composer, Lightworks, Corel VideoStudio, etc. Rip and convert Blu-ray/DVD to any video/audio format for free playback. Edit video and compress video efficiently Convert downloaded MKV, MOV, MP4, WMV, AVI movies to playback format supported by smartphone, tablet, smart tv, etc. And so on
How to Convert MOV to Vegas Pro Compatible Format
PS: The process is almost the same on PC and Mac. Here we will take Acrok Video Converter for Windows as the example to show the MOV to Vegas Pro 19/18/17 and other lower versions conversion process.
1. Add MOV video files
After downloading, install and run Acrok Video Converter Ultimate as the best MOV to Vegas Pro Converter on your PC, simply drag and drop your MOV files to the program. You can also click "Add file" button to load your source files. (Note: batch conversion is supported, so you can load more than one file to save time.)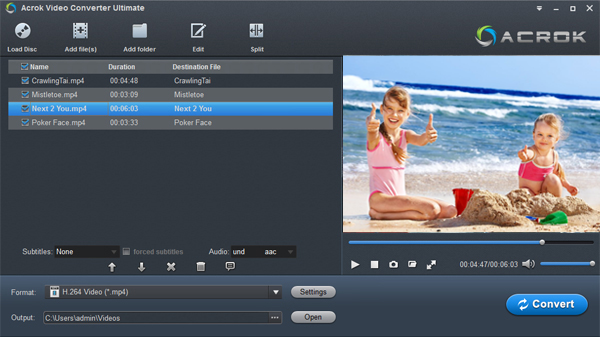 2. Choose an Vegas Pro editing-friendly format
Based on our test, MPEG-2 MPG, H.264 MP4 and H.264 MOV are supported by Vegas Pro 19, 18, 17 well. So here we take converting MOV to H.264 MP4 as an example. Click "Format" bar and move mouse cursor to "Common Video" and then select "H.264 MP4 Video (*.mp4)". MP4 is not the only option that can import to Vegas Pro. Converting MOV to MPEG-2 MPG, H.264 MOV, etc works too. There is a long list of output video formats available for you to choose.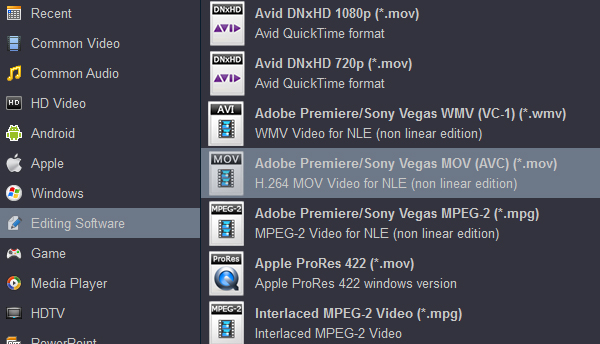 Tips: You can cut, crop, merge, rotate to make some easy video edits before conversion with Acrok Video Converter Ultimate.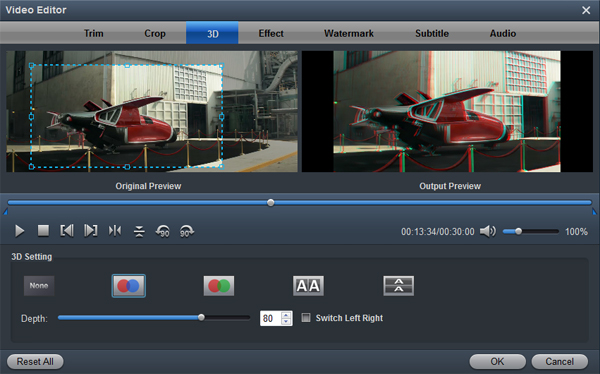 3. Convert MOV for Vegas Pro
Hit "Convert" button and it will begin fast video decoding, conversion and processing your MOV video at one go. Hardware acceleration can be enabled to speed up the processing, only if your computer has supported graphics cards.
When the conversion is finished, you can click "Open" button to get the generated video files effortlessly. Launch Vegas Pro on your computer, choose "File > Import to import converted MOV files in Vegas Pro 19/18/17/16/15/14/13/12 for further editing.
Final Words
You should know that codec format decides whether you can load a video or audio file successfully or not, while MOV is just a container format. So even though you are importing an .mov video, the encoded file wrapped in the mov box might not be supported, which leads to file import failure. To be honest, it's not so hard to solve the Vegas Pro video edit. All you need to do is get the videos converted to be Vegas Pro supported. Therefore, transocding mov file using Acrok software or any other conversion software is the the most effective yet easiest solution recommended by us.