Import RED KOMODO RAW ProRes into Premiere Pro
How to import a RAW file into Premiere Pro? I recorded some 6K footage with my new RED KOMODO. I need to edit the RAW files in Premeire Pro CC. But I can't import videos that where shoot with RAW (280 MB/s). Is that not a recognized file extension? Should I convert the video file somehow?
The RED DIGITAL CINEMA KOMODO 6K is one of the hottest new products in the cinema camera space, as a small form factor cinema camera, at Red's most affordable price point yet. At under $6K, it is the cheapest camera RED out on the market. It's small, compact and captures 16-BIT REDCODE RAW to a CFast 2.0 card. The RED KOMODO shoots up to 6K at 50 frames per second (fps) and up to 120fps in 2K in REDCODE RAW. It also captures up to 4K 60fps in ProRes 422 or 120fps in 2K.
Here we are aimed to importing RED KOMODO 6K and 4K footage into the non-linear editing systems Premiere Pro (CC, CS6, CS5). The RED cameras (which includes the KOMODO, DSMC2, RANGER MONSTRO and RANGER) have the similar workflow, because these cameras record in the same RAW and ProRes format. Below, we outline how to transfer RED KOMODO 6K and 4K footage onto a hard drive, and how to import RED KOMODO recordings into Premiere Pro.
About RED RAW files
REDCODE RAW is the key advance that made digital 4K video capture a reality. As RED's proprietary file format, REDCODE RAW efficiently encodes image data in a way that maximizes post production capabilities. REDCODE's efficiency helps content creators achieve increased image quality and smaller file sizes when capturing data-rich, high-resolution images.
Records 6K footage in the RAW format. The RAW format uses the REDCODE, which has high compression efficiency. So far, Sony has four cameras with the function of shooting RAW format, including RED ONE, RED DSMC, RED DSMC 2 and RED KOMODO. At present, this format belongs to RED's exclusive format. If you are RED KOMODO user and wants to edit 6K/5K/4K RAW and 4K ProRes footages in Premiere Pro on Windows 10 or macOS Big Sur, you'll found Premiere Pro can't recognize the RED KOMODO footages or can't edit RED KOMODO videos smoothly. How to Fix Premiere Pro and RED KOMODO Files Importing Errors? I'll give you a detailed introduction.
Can we edit RED KOMODO RAW and ProRes files in Premiere Pro CC, CS6, CS5 smoothly?
Technically, the Premiere Pro video editing application that comes with Adobe's suite lets users import RAW and ProRes files into the application directly from a camear or camcorder. But in fact, not all RAW devices are recognized by Adobe editing software. And there is no way to import RED KOMODO recordings to Premiere Pro that you have previously transferred from the camera to computer as the file structure has changed and the editing software won't accept them. Importing an RAW file into Adobe application is not as easy as importing a common MOV or MP4 video file anyhow. As for editing 4K ProRes files, your computer hardware configuration must meet certain requirements.
If you have some problems when trying to import RED KOMODO clips to Premiere Pro, you'll have to convert RED KOMODO videos to Premiere Pro friendly video format like H.264 .mov, H.264 .mp4, wmv3 WMV, MPEG-2 MPG, etc., so that these videos can be accepted by Premiere Pro CC, CS6, CS5 natively.
RED KOMODO Premiere Pro workflow
Best 6K Video Converter for RED KOMODO
Can't edit RED KOMODO videos in Premiere Pro smoothly? Premiere Pro audio out of sync problem after import? You need to transcode RED KOMODO footage to Premiere Pro editable format via best 8K Video Converter. Let you edit RED KOMODO 6K, 5K and 4K video in Premiere Pro CC, CS6, CS5 without any problem.
Acrok Video Converter Ultimate is strongly recommended to help you transcode RED KOMODO videos to Premiere Pro supported video format fast yet with great quality. It's the best 8K Video Converter for RED users to transcode 8K/6K/5K/4K RAW and 4K/2K ProRes files to editable format for editing in Premiere Pro, Vegas Pro, DaVinci Resolve, Avid Media Composer, Final Cut Pro, etc. The following guide tells you how to convert RED KOMODO video to Premiere Pro supported format/codec step by step. First of all, download the 6K Video Converter below. If you're using Mac, please get Acrok Video Converter Ultimate for Mac to convert RED KOMODO recordings on macOS Big Sur.
Free download RED 8K Video Converter
How to transcode RED KOMODO footage to Premiere Pro native editing format?
Here the detailed way to convert RED KOMODO video to Premiere Pro supported format on Windows 10 is showed. The way to transcode RED KOMODO video files on macOS (Including macOS 12 Monterey) is the same. Just make sure you've downloaded the right version.
1. Add RED KOMODO videos
Launch Acrok Video Converter Ultimate as the best RED KOMODO Video Conveter and click "Add File" to load the KOMODO RAW or ProRes files you want to convert. Or directly drag RED KOMODO videos to the program. After the files are loaded, you can preview them and take snapshots of your favorite video scenes.
2. Choose Premiere Pro supported format
Afterwards, navigate the formats at the bottom and click Format > Editing Software to select Adobe Premiere AVC (*.mov) as the output file format. Of course, you can also choose 4K MOV and 4K MP4 as the output format. Other popular output formats included MP4, WMV, AVI, M4V, FLV, MPEG-2 and many more.
3. Edit RED KOMODO videos
Some video editing functions are provided, letting you personalize your original RED KOMODO videos instantly. To edit a video, select the video that you paln to edit then click the "Edit" icon to open the video editing window. And then you can trim the video, crop video size, add some special video effects, add watermarks and more. With the smart and easy built-in video editor, you can get exact what you want in just a few mouse clicks.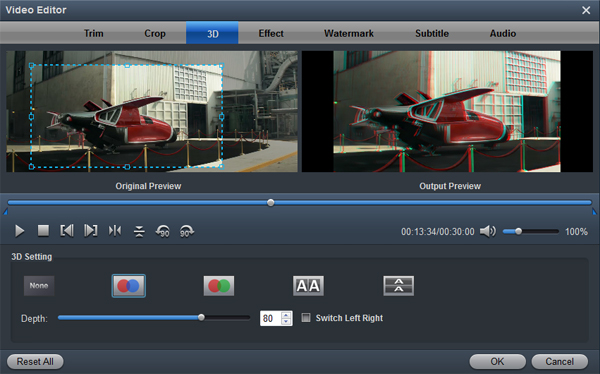 4. Start converting RED KOMODO footage
When all the settings are OK, click the Convert button to start converting RED KOMODO footage to Premiere Pro compatible formats. When the conversion completes, you will get high quality videos. After that, you can edit the converted videos in Premiere Pro and play the converted video to meet your multimedia needs.
Additional Tips:
If you want to edit RED KOMODO material in Avid Media Composer, please choose the " Editing Software > Avid DNxHD Video (*.mov) " as output; For iMovie user, choose the "iMovie and Final Cut Express > Apple InterMediate Codec (AIC) (*.mov)". For editing KOMODO RAW files in Final Cut Pro X, choose "Final Cut Pro > Apple ProRes 422 (*.mov)" or Apple ProRes 4444 (*.mov).
For playing RED KOMODO videos on smart TV, please HD Video > HD MP4 Video (*.mp4) as output format.
With this RED 8K Video Converter, you can convert Blu-ray and DVD into virtually any regular video formats like AVI, WMV, MKV, FLV, MP4, MOV, 3GP, VOB, MPG, etc. In addition, it provides hundreds of video presets for portable devices like iPhone 12 Pro Max, iPad Pro, PlayStation 5, iPad Air, Xbox Series X, Google Pixel 5, OnePlus 9, Android tablet, etc. What's more, this 8K Video Converter allows you to copy Blu-ray whole content or just backup main movie from Blu-ray with its provided copying features. Don't hesitate to get it now.