Best Workflow for Edit MP4 files in Final Cut Pro X
Can Final Cut Pro X open MP4 files? Failed to upload 4K MP4 to FCP X? Have you prompted an error message on your screen saying that the video files are unsupported when you tried to move, import, or transfer the MP4 file to Final Cut Pro X?
If you're troubled in importing MP4 files into Final Cut Pro X for further editing, follow the quick-start guide to learn how to make MP4 editable in FCP X without quality loss.
"Just installed Final Cut Pro X on a new iMac. I can see and play the 4K MP4 files in bridge but when I try to import it says there's a file issue and won't import. Are these files I need to convert to a different format or do I need to add a specific codec to the iMac?"
"How do I fix this? I can't open the MP4 video in quicktime to at least watch the video and when I import it into FCP X, I get the error message that's saying the codec is missing."
"an issue that's really annoying and bothers me a lot: Due to a new system setup I reinstalled Final Cut Pro X and now I'm no longer able to import MP4 files in FCP X anymore. These files contain screen recordings. This also means a loss of already done work for me."
MP4 is a digital multimedia container format most commonly used to store video and audio, but it can also be used to store other data such as subtitles and still images. A .mp4 video file is actually a generic Video Container for many possible Video Codecs. MP4 is one of the most generic video file extensions used for saving videos. It has been previously announced that Final Cut Pro X does work with and support MP4 files. However, the MP4 files setting and codec might differ from other MP4 files that we have saved or exported from various devices, players or programs. Therefore, you might still be prompted by an error message reading an unsupported format or damaged file. There are a lot of different video codecs in use and Final Cut Pro X cannot decode them all.
XAVC-S is Sony's encoding of ONLY up to 4kHD wrapped in a MP4 file using H. 264, whereas H. 265/HEVC allows encoding for up to 8kHD with many diff profiles. These two formats are mostly used to record high quality video, but the compatibility is not very good. If you are currently using an earlier version of the Final Cut Pro X, most people would recommend you to upgrade it to the latest version, so it would recognize the MP4 file. It might not necessarily work in all cases as you might experience video glitches.
Another method tried and tested by users of Final Cut Pro X to ensure MP4 files work is to either rename the MP4 files directly as ProRes 422 or ProRes 4444 MOV or convert them to file types or formats that are compatible. The former is not the best option as the quality of the videos is not good enough for web use. Hence, we're going to share a effective solution here to enable edit MP4 with Final Cut Pro X.
Since the MP4 Import Failure in Final Cut Pro X is mainly due to incompatible file format or codec missing, the easiest way is to transcode MP4 to other FCP X friendly formats. Along with some help from a third-party program like Acrok Video Converter Ultimate for Mac, you can easily get the job done. The program enables you convert H.264, XAVC S and H.265 MP4 files to Final Cut Pro X compatible format like ProRes with lossless quality and fast speed. You can do some simple cutting, trimming and merging before converting MP4 files. If you're running on Windows, please turn to its equivalent Windows version – Acrok Video Converter Ultimate.
Free download MP4 to Final Cut Pro X Converter
How to Convert MP4 to Final Cut Pro X Friendly Format
Step 1: Download, and install Acrok Video Converter Ultimate on your Mac or PC. Drag the MP4 file to the MP4 to Final Cut Pro X Converter. Or you can also click "Add file" icon on the top of the main interface to import ,mp4 video to the program. Batch conversion is supported, so you can load more than one file to save time.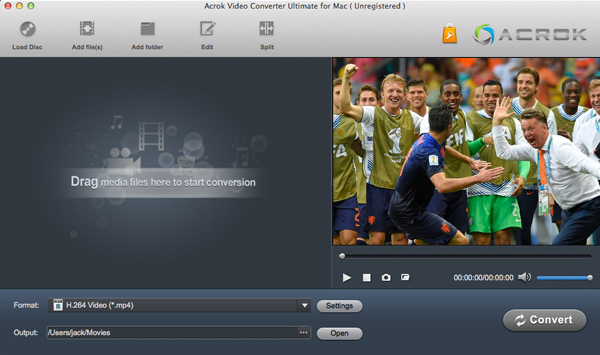 Step 2: The program has three already optimized the video settings for FCP X. You can select Apple ProRes 422 MOV or ProRes 4444 MOV from "Final Cut Pro" as the output format. Here we recommend you choose ProRes 422. The output videos will keep the original quality of the MP4 video and seamlessly fit FCP X.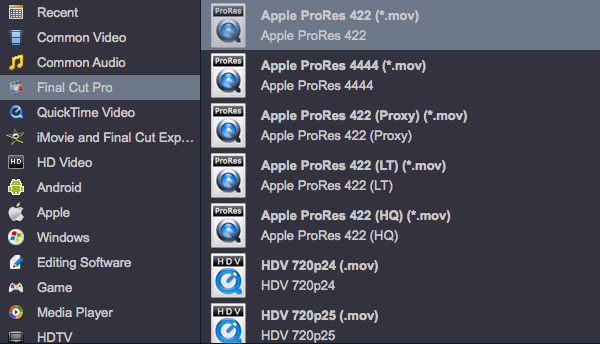 Settings:
To further customize the output format, please click "Settings" button and enter "Profile Settings" window to adjust video and audio parameters.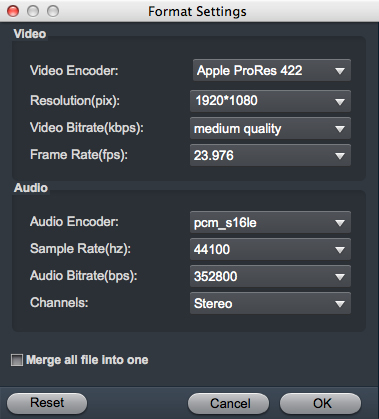 Edit MP4 Video:
Select the video that you want to edit. Click the "Edit" icon and you'll go to the video ediitng window. On the pop-up window, you are able to crop, rotate video, or add effects, watermark, subtitle to your video.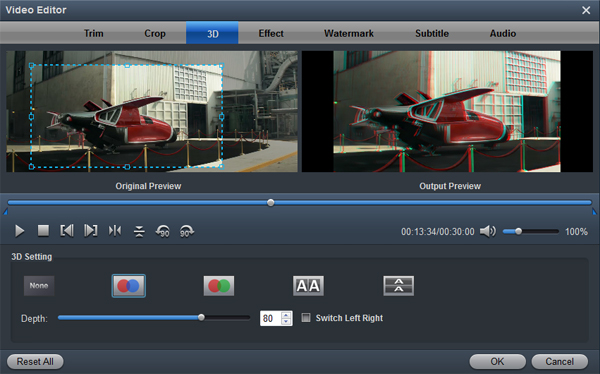 Step 3: Hit the big "Convert" button in the main UI to begin the MP4 to ProRes conversion. You can see your converted videos by clicking "Open" button. Now you are able to import and edit the conveerted MP4 file in Final Cut Pro X without any problem.