Blu-ray to MOV Converter
Have you ever met the problem that you have to rip and convert Blu-ray to MOV format, for the reason like playing on tablet, smartphone or smart tv, or sending to your friends, etc. How did you solve it?
About MOV Format
MOV is an MPEG 4 video container file format used in Apple's Quicktime program. MOV files use Apple's proprietary compression algorithm. Apple introduced the MOV file format in 1998. It is a type of file container that can hold many different video formats and multimedia. It is a friendly format that is supported by many devices and media players. We can play common MOV with iPad, iPhone, QuickTime, Windows Media Player, etc.
Some movie fan has collect a large number of precious Blu-ray disc. But in daily life, playing Blu-ray disc is not a convenient along with the development of digital devices. Then you can choose to rip Blu-ray to MOV format, thus to play on digital media player or devices, such as Galaxy Note 20, iPad Pro, iPad Air, Motorola Edge 20 Pro, iPad mini, Google Pixel 6 Pro, iPhone 13 and so on.
Well, today our topic is show you how to convert your 4K and 1080P Blu-ray disc to MOV. If you need to do that, don't miss this easy guide.
Rip 4K/1080P Blu-ray to H.264 MOV with fast speed
Speaking of ripping 4K and 1080P Full HD Blu-ray disc, we have to prepare the things below:
a. Computer
We have to get help from a computer to finish the Blu-ray to MOV conversion.
b. Blu-ray drive
Now few of laptops and desktop computers are equipped with a built-in Blu-ray drive. Please check your computer to see whether it have one. Or else, you need to buy an external Blu-ray drive.
c. A Blu-ray Ripper Software
You have many choice on current market. But to save your time, we pick Acrok Video Converter Ultimate as the example to show you the conversion.
Try Acrok Blu-ray ripping software and know it
Acrok Video Converter Ultimate is designed to make Blu-ray conversion as easy and fast as can be. This software appears in many software evaluation websites and has been highly praised by many users. It is known as the best 4K Blu-ray Ripper software. After years effort of the technical team, it performs very excellent on ripping Blu-ray and compressing Blu-ray to digital format. Till now, it supports all major popular format such as MOV, M4V, MP4, MKV, AVI, WMV and MP3. The presets of the output format will save you time to look a compatible format with your tablet, smartphone, smart tv and editing software.
It will help you to transfer any Blu-ray movie into MOV format in just 4 steps. Download this Blu-ray to MOV Converter and follow us to start conversion.
Step 1. Add Blu-ray Files
Please make sure your computer drive can read 4K or 1080P Blu-ray disc successfully before you use Acrok Blu-ray Ripper to convert your Blu-ray discs. Insert a Blu-ray which you want to convert to MOV format into your computer's BD-ROM. Then find "Load Disc" icon at the top left corner, click it to upload Blu-ray files.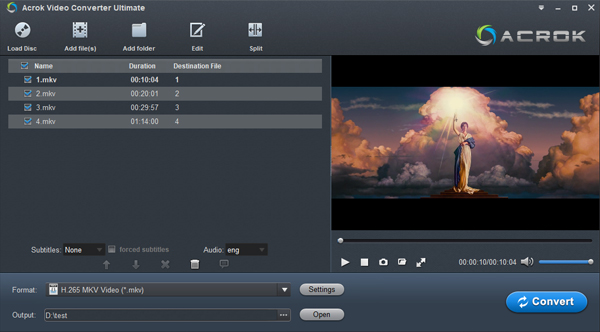 Tip: As a powerful video converter, it supports video conversion of all formats. You can click "Add file" icon to load you downloaded and recorded MP4, MOV, MXF, MTS, MKV, AVI, WMV, etc., videos into this Blu-ray to MOV Converter.
Step 2. Select MOV As Output Format
Click "Format" bar at the left right corner and then you will see a pop-up list. Select MOV format from "Common Video" tab as output format. If you want to watch Blu-ray movies on your mobile phone or tablet, please select H.264 Video (*.mp4) as output format.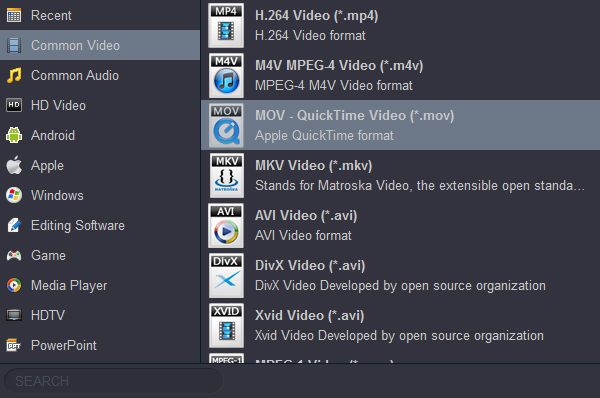 Tip: Acrok Blu-ray ripping software also customizes other .mov formats for users, such as rip Blu-ray to AIC MOV, convert Blu-ray to ProRes MOV, transcode Blu-ray to DNxHD MOV, etc. You can choose different output formats according to your needs.
Step 3. Rip Blu-ray to MOV File
At last, all you need to do is to click "Convert" icon to convert Blu-ray files to MOV files. Once the conversion is done, you can find the output files in the destination folder.
As you can see, with the best Blu-ray to MOV converter: Acrok Video Covnerter Ultimate, you can rip Blu-ray to MOV easily and quickly. By following the above steps, you will obtain a new converted Blu-ray video in MOV format with the best output quality. Finally, you just need to connect your digital device or USB flash drive with computer and transfer the MOV video to your device for more enjoyment.