Cadillac USB Supported Audio/Video Formats
Cadillac USB ports not working solution: Convert audio video to Cadillac USB supported format to successful play M4A, FLAC, MKV, AVI, MOV files using USB in car stereo.
Contents
Does your Cadillac XT5 can't read and play .flac music from USB stick? Cadillac CT6 USB device not supported, why? When you start your car for a trip with a happy mood, you find that your favorite music can't be played. It feels terrible. Most of the reason is that the audio format is incompatible with your car stereo. This article will help you solve the format incompatibility problem and let you play all your favorite songs in your car. Today's protagonist is Cadillac.
Many people enjoy listening to music while driving. When most of car head units are equipped with CD player, listening to high-quality music was a breeze. That era is behind us now. Most people these days store their favorite music on their phones or USB flash drive and that leaves them wanting more. The question they often ask is…
What is the best music file format for Cadillac car audio?
My Cadillac XT5 USB ports not working, how to solve this problem?
What video formats does Cadillac ESCALADE USB format?
I played 320kb .mp3 the other day and it still sounds harsh, why?
What's a lossless format, how to get it for my Cadillac ATS?
Why my Cadillac USB device not supported?
Cadillac's major markets are the United States, Canada, and China. Cadillac models are distributed in 34 additional markets worldwide. It's XT5 and CT6 models deeply loved by many people. The upcoming electric car (LYRIQ) has also attracted much attention. OK. Now, let's talk some business. The following content will help you enjoy downloaded songs and videos in your Cadillac SUVS, Sedans & Electric.
Best Music and Video File Format for Cadillac Audio System
Best Audio Format For Cadillac CUE : MP3 and WMA
Best Video Format For Cadillac CUE : MP4 (Need to be less than 2 GB each to be saved on a FAT32 drive)
CUE is an acronym for Cadillac User Experience. The primary objective is seamless user connectivity to features that are most useful to the driver, such as streaming content, navigation, vehicle controls, and more. Features can be accessed by voice or by touch. Currently available on 2018 CTS, CTS-V, 2019 ATS, ATS-V, CTS, CTS-V, CT6, CT6-V, XT4, XTS, all 2020 Cadillac vehicles except Escalade, and all current 2021 Cadillac vehicles.
Audio extensions supported by the USB are: MP3, WMA, AAC, OGG, AIFF, 3GPP
Resources from:
https://my.cadillac.com/content/dam/gmownercenter/gmna/dynamic/manuals/2017/Cadillac/cue-infotainment-system.pdf
Cadillac's entry-level audio system is AKG Audio System now. The standard 19-speaker AKG Studio sound system features strategically placed speakers and is custom-tuned to the interiors of the Luxury, Premium Luxury and Sports trims for optimal sound quality. We can play music via Bluetooth, CD and USB using CUE system.
Though Cadillac stereos enable to play audio files from USB flash drive, few of them can play FLAC, M4A, AIFF, MKA, etc., audio. For using USB means the audio is decoded by the headunit digital signal. However, car audio manufacturers often ignore this audio codec completely and there isn't a single headunit that supports all the popular audio formats and codecs.
Lossless format file allows you compress CD-quality music resulting in a file with reasonable size without any loss of details. They're clear and crisp as if you're listening directly from CD. One popular format is FLAC. But we can't play all the .flac audio files in Cadillac SUVS, Sedans, & Electric. For Cadillac CUE, .mp3 and .wma format compatibility is the best. The audio quality depends a lot on the bit rate. But not that the larger the bit rate, the better. We need to find an appropriate value. I think we should still follow the bit rate value of the original audio. By converting the unsupported audio format to Cadillac CUE USB supported music format with a free audio converter, you can solve all the above problems. How to convert audio files for Cadillac without losing quality? The key is to choose a professional audio converter for your Cadillac SUVS, Sedans & Electric.
If you plan to play your movies in Cadillac Escalade, CTS, ATS, SRX or Cadillac XT5, you'd better convert your videos or movies to H.264 MP4 with video conversion software. Which software can do the job with ease? Acrok Studio can give you a hand.
Best Free Audio Converter for Cadillac
Is there no way for Cadillac car stereo to playback FLAC, M4A, OGG, AU, MA, CAF, QCP, M4B, RA, SHN, AMR, VOC, PCM, MPC, AC3, AIFF, APE files from USB flash drive? Surely not! The following article will introduce a recommended solution: Convert Audio files to Cadillac car stereo or car radio supported audio format.
Acrok Video Converter Ultimate (Windows Version | Mac Version) is just the right audio in Car Converter! It can fast convert any audio format to car radio/stereo supported audio format with the highest quality output. It also can convert audio/video/CD/Blu-ray/DVD to Cadillac car stereo compatible MP3, WMA, AAC with much smaller output file size. Besides converting music for Cadillac car stereo, it also help to convert other audio formats including CAF, FLAC, QCP, M4B, M4A, RA, SHN, AMR, VOC, PCM, MPC, AC3, AIFF, APE and etc for easy playback on smartphone/tablet.
Best Video Converter for Cadillac
Being tested with more than 10,000 video files, Acrok Video Converter Ultimate is assured of a stable, easy-to-use yet fast video converting tool on Windows (Windows 11 included) and Mac (macOS 12 Monterey included). With the new optimized NVIDIA® CUDA™ & AMD® acceleration technology, it runs an unbeatable 30X faster than others. What's more, this video file converter ensures zero quality loss. The lossless conversion supports most formats like MP4, MOV, AVI, WMV, MKV, AVCHD/MTS, Blu-ray, DVD, CD and more. If you want to handle lossless, fast and stable conversion, then you absolutely cannot miss Acrok Video Converter Ultimate.
If you are importing video files and you want to enjoy them in your car, please select H.264 MP4 as output format.
Supported Models:
Cadillac CT4, Cadillac CT5, Cadillac XT4, Cadillac XT5, Cadillac XT6, Cadillac XTS, Cadillac ATS, Cadillac CTS, Cadillac DTS, Cadillac ELR, Cadillac SRX, Cadillac STS, Cadillac XLR, Cadillac ESCALADE, Cadillac ESCALADE ESV, Cadillac LYRIQ, etc.
How to convert video/Blu-ray/DVD/CD to Cadillac USB supported video format?
1. Import video files
Install and run Acrok Video Converter Ultimate as the best Cadillac USB video converter. Then you can add the MKV, AVI, MOV, WMV, MP4, DVD even Blu-ray videos to the program by clicking "Add file" button or directly drag and drop.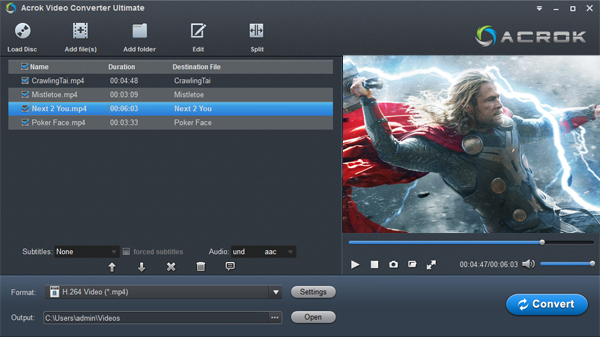 2. Set output format
Click Format bar to select an output format. To play your own movies with Cadillac CUE, H.264 format from Common Video is all the proper format.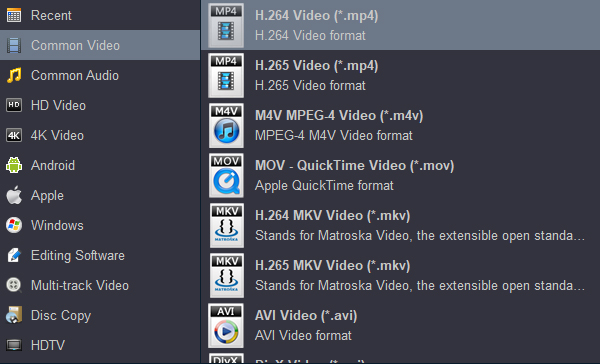 ↑ ↑ ↑
Cadillac USB supported video format
3. Settings
Before the video conversion, you can change the format parameters by click the Settings bar. The video size, video encoder, frame rate, bit rate, audio encoder, channel and more other parameters can be adjusted in this Settings option.
Tip: CUE includes an 8-inch LCD display with 800×480 resolution at the top of the center stack, now fixed in place rather than half-open / all-open predecessor on some Caddies, and an optional 12.3-inch reconfigurable LCD cluster (1280×480) in the instrument panel that can be semi-customized into four screen layouts. You can choose the appropriate resolution according to the size of the screen. Just click "Settings" button then input the value into "Resolution (pix)" column.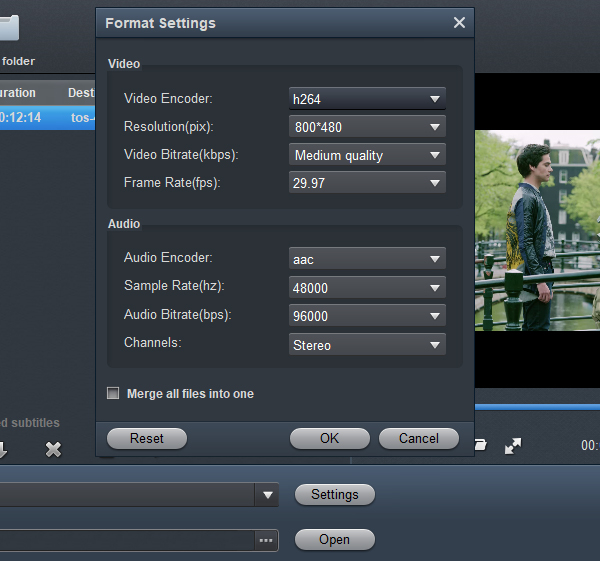 ↑ ↑ ↑
Cadillac CUE Video resolutio (800×480 or 1280×480)
4. Start converting video files
Finally, click Convert to start the unsupported video formats to Cadillac USB supported video format conversion. When the conversion ends, you can tap the Open button to locate the converted files and then copy video to your USB flash drive simply.
How to convert video/audio to Cadillac USB supported audio format?
The following is a step by step guide on how to convert any audio files to Cadillac USB supported format for successfully playback music on the trip.
Make preparation: Run Cadillac Audio Converter
Free download the powerful Free Audio Converter for Cadillac SUVS, Sedans & Electric, install and run it.
1. Import audio or video files
Click the "Add File" to add the audio files which you want to play in Cadillac to Free Audio Converter. This powerful audio to Car Stereo Converter also supports drag and drop function. You can load video and CD/Blu-ray/DVD into this software too.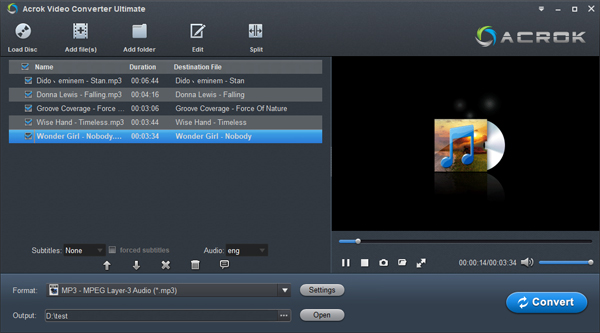 2. Select Cadillac USB compatible audio format
Click the "Format" drop-down arrow to select the desired output audio format from the "Common Audio" category according to the specific supported formats of your Cadillac model.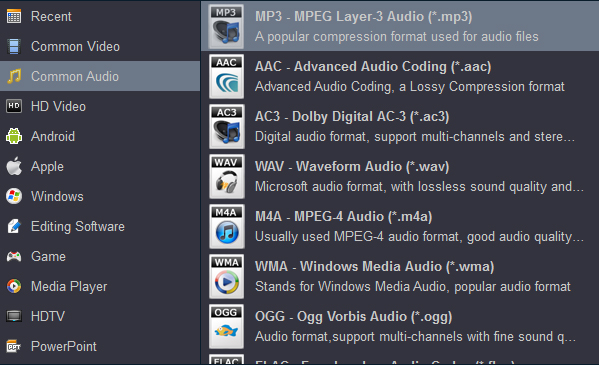 Tips: Usually, the Cadillac supports to play MP3 and WMA from USB drive. Choosing MP3 as output format will achieve converting video/audio with almost no loss of audio quality.
3. Start converting audio files
Click the "Convert" button to start converting video, CD, audio to Cadillac USB supported audio format, it will be finished with the highest quality output and super fast conversion speed.
Tip: How to play music and video in Cadillac from USB?
1. Connect the USB.
2. Touch MEDIA on your Cadillac user experience2 infotainment system until the connected device is shown.
3. Touch Play icon to play.
4. Touch Pause to pause play.
5. Touch Rewind to move to the beginning of the current or previous track. If the track has been playing for fewer than 10 seconds, the previous track plays. If playing longer than five seconds, the current track restarts. Touch and hold to reverse quickly through playback. Release to return to playing speed.
6. Touch Forward to move to the next track. Touch and hold to advance quickly through playback. Release to return to playing speed.
7. Touch the Shuffle icon to shuffle through your playlist.
8. Touch the Replay icon to display the time bar. Move the time bar to interact with the currently playing song.
9. Touch TONE to access the Tone Settings screen. Set the Bass, Midrange, Treble, Balance and Fade.
Note: Convert the video as .mp4 or any popular video format. Transfer video to USB flash drive or SD card and plug into the slot in the armrest. Videos can only be played while the vehicle is parked.
Conclusion
You can play songs and videos from a supported USB mass storage device when you connect it to the USB port. This lets you listen to audio while you're moving and watch video while your vehicle is in Park. Cadillac USB adn SD Card best supported audio formats are MP3 and WMA. After finishing the audio to Cadillac car stereo audio format conversion according to the above step by step guide, simply play the converted audio files using USB drive in your car stereo.
Okay, now that you know what the best music file format for Cadillac AKG system is, it's time to revisit your music library. Rip your music CD collection, convert music MV and other music to Cadillac USB suported audio format. If your old head unit cannot play your downloaded music, and you do not wish to upgrade, simply use the audio conversion tool so save your collection as MP3 or WMA. The website provides easy conversion converting various audio file format, not just MP3 and WMA. You can convert your whole library of favorite music easily with this online tool.