BRAW to ProRes – Convert BRAW to ProRes 422/4444 MOV
BRAW means Blackmagic RAW, and it's the internal file format for all Blackmagic cameras. BRAW is a brand new proprietary format from BMD which is not compatible with any of its predecessors such as CinemaDNG, Blackmagic RAW 3:1 or 4:1. BRAW is not only a file format, it's also the name of a visually lossless video codec from BMD. In Blackmagic cameras, all frames are stored in the ".braw" container, which is actually a MOV container with custom atoms.
Recorded some insignificant moments of your life and the lives of those around you with your Blackmagic Design camcorder/camera and want to do a little movie with RAW (BRAW) files in Final Cut Pro X for your school or work project? When you tried to do it, you may encounter problems like these:
Q1: FCP X 10.4.2 does not open .Braw files correctly
"I found it very convenient to be able to transfer the recorded files over from the SD media to my PC, however, getting the resulting .Braw files into FCP X proved to be a challenging experience."
Q2: BRAW files in Final Cut Pro X 10.2.3
"I am trying to import BRAW files into FCP X 10.2.3, with no joy. If I change the file extension to .Braw, FCP X can import the video, but no audio. Can anyone advise on how I can import 4K BRAW files successfully, with both video and audio?"
Users who want to edit Blackmagic BRAW videos with Final Cut Pro X usually run into various issues. This is due to that BRAW videos are very hard to deal with during video editing. To work with BRAW files in FCP X without problems, the easy workaround is to convert BRAW to a more editing-friendly format, such a FCP X's ProRes.
Can we use the third-party software to directly convert the video file to the desired format? The answer is NO. If you want to convert BRAW to MP4 or other formats or edit the BRAW video, DaVinci Resolve is your only and the easiest way out.
For getting ProRes videos, we need to convert BRAW to MP4 with DaVinci Resolve, then transcode MP4 to ProRes video via third-party software.
Part 1: Convert BRAW to MP4 with DaVinci Resolve
1. Download and install the latest DaVinci Resolve at https://www.blackmagicdesign.com/products/davinciresolve. It is available on macOS, Windows, and Linux. (Here, I'm using DaVinci Resolve 17)
Note: The "Studio" version is paid software. Download the free program, which is by the plain name of "DaVinci Resolve". Both versions come with a Blackmagic RAW Player on which you can play the BRAW files natively.
2. Run DaVinci Resolve. Over the top-left menu, click "File" > "Import" > "Media…" (or press "Ctrl + I") to import the BRAW file into the media pool.
3. At the bottom of the screen, click on the far right "Deliver" tab that looks like a rocket ship.
4. The "Render Settings" section will show up on the upper-left of the workspace. You can follow the provided options (Filename, Location, Format, Codec, Encoder, Resolution, Frame rate, Quality, etc.) to render BRAW as MP4, lower the resolution, change quality, any way you like. When you are ready, click "Add to Render Queue" at the bottom right.
5. Now, your file will be available over the upper-right "Render Queue" section. Click "Render All" below to export the BRAW file as H.264 MP4.
Part 2: Convert MP4 to ProRes via Acrok software
Along with some help from a third-party program like Acrok Video Converter Ultimate for Mac (Windows Version), you can easily achieve your goal smoothly.
The Acrok tool features high efficiency and seamless conversion. By running it, there's no need to set the codec by yourself: the program has five optimized presets for Final Cut Pro X (10.5.1 included). Below are the steps of converting rendered MP4 files to ProRes for editing in Apple Final Cut Pro X freely.
Free download MP4 to ProRes Converter trial version:
Step 1: Load MP4 files
After downloading this Mac MP4 video converter, install and run it. And then import your MP4 files to the program in one of two ways:
1. Directly drag and drop one or more MP4 files to this MP4 to ProRes Converter.
2. Click "Add File" button to load your 6K, 4K or 1080P MP4 files to this program.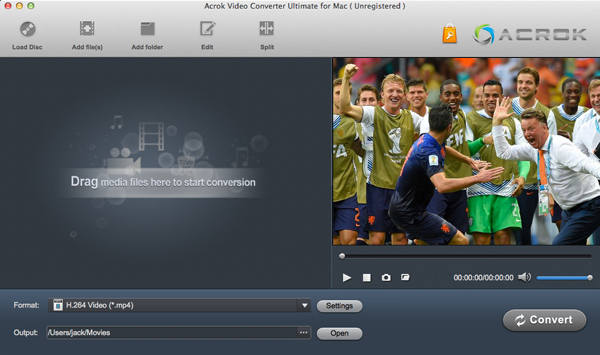 Step 2. Choose the optimized preset for FCP X
The program has five already optimized the video settings for FCP X. You can select ProRes 422 MOV or ProRes 4444 MOV from "Final Cut Pro" as the output format. All output videos will keep the original quality of MP4 files video and seamlessly fit Final Cut Pro X and more. Here we recommend you choose ProRes 4444.
Tip 1: If you want to set some parameters for the output profile, you could click the "Settings" button to set the output bitrate, encode, frame rate, resolution, sample rate, channels, etc. To know the original video parameters, please go back to the main interface of the software and select your task then click "Show selected tast properties" icon.

Tip 2: If you delve into the software, you will find its editing functions very useful. To activate the "Edit" menu, you have to select an item first. When a video file is selected, you can click the "Edit" icon on the tool bar of main interface to edit selected file. On the "Video Editor" Window, you can play and preview the original video and output effects. Also you can flip video, trim, add 3D effect, reset, and adjust volume.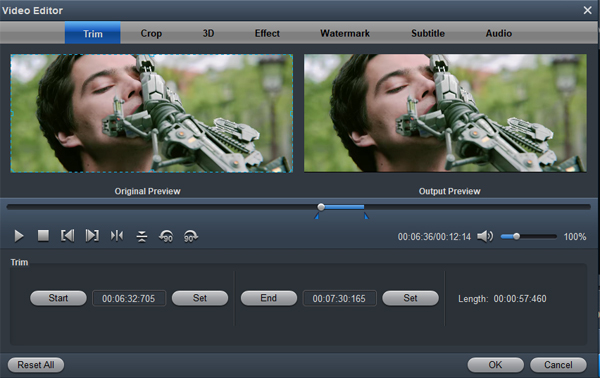 Step 3. Start MP4 to ProRes conversion
When the former steps finished, you can press "Convert" button to start rewrapping MP4 files to ProRes for Final Cut Pro X on Mac OS X (macOS Big Sur is included). Once the conversion process is done, click "Open" button to get the generated files.
After the conversion, you can import the BRAW files to Final Cut Pro X for further editing smoothly.