Free convert Stereo Audio to 5.1 Channel online
Question about can't get 5.1 Channel Audio
Last week I bought a brand-new audio equipment, which supports 5.1 channels. I want to change the audio of my movie into 5.1 audio. How can I achieve one of my goals? Listening to symphonies and drinking coffee is something I must do every afternoon. After all, I spent a lot of money on the equipment. I want it to calm me down in the beautiful sound effect. Do you have any suggestions?
What is stereo audio?
Stereo (or Stereophonic sound) is the reproduction of sound using two or more independent audio channels in a way that creates the impression of sound heard from various directions, as in natural hearing. In popular usage, stereo usually means two-channel sound recording and sound reproduction using data from two speakers. The electronic device for playing back stereo sound is often called "a stereo". Stereo systems only have 2 speakers (left and right), whereas surround sound is 3 or more. Stereo sound is great for when you are watching a movie with lots of music and environmental sounds so you can really feel like you are in the movie.
What is 5.1 surround sound?
5.1 surround sound ("five-point one") is the common name for surround sound audio systems. 5.1 is the most commonly used layout in home theatres. It uses five full bandwidth channels and one low-frequency effects channel (the "point one"). All 5.1 systems use the same speaker channels and configuration, having a front left and right, a center channel, two surround channels (left and right) and the low-frequency effects channel designed for a subwoofer.
Does 5.1 sound better than stereo?
It is multi-channel, which creates surround sound effect. The sound can reach the audience from all directions. The most commonly used scenarios are in home theaters or digital broadcasts. Converting stereo to 5.1 can give listeners or viewers a better experience. Surround sound will create a more dynamic sound experience within the space, which refers to the sound traveling at you from all directions. For stereo, it'll only come from 2 directions. This is the main reason people upgrade to surround sound, particularly if their home theater is for watching movies. This sound effect is more shocking and makes you feel immersive. If correctly set up, a 5.1 system will deliver more immersive sound than a stereo. However, whether 5.1 or stereo is better depends on what exactly is being played and in what room size. Obviously, 5.1 sound is better than conventional stereo when watching movies. The car stereo equipment is a permanent friend of drivers. Now many car stereos support 5.1 audio playback, so conventional stereo audio can no longer meet the needs of enthusiasts. Converting stereo to 5.1 surround is the general trend.
How to convert stereo to 5.1 surround sound freely?
For getting 5.1 audio freely, you need to free download Stereo to 5.1 Converter online. I use Acrok Video Converter Ultimate as the basic framework for manipulating the soundtrack on my video files. This professional software is designed for video and audio conversion, which works well in converting Stereo to 5.1. Some users are confused by other Stereo to 5.1 converters on the internet because of the complicate operations. Superior to them, this Stereo to 5.1 converter requires only three steps, and even the beginners will surely handle it.
Free downloa and try Stereo to 5.1 Converter
Features of Acrok Free Stereo to 5.1 Converter
Free convert Stereo to 5.1 surround sound Free convert Blu-ray, DVD, video to any audio format Convert Blu-ray, DVD, video to any video format/any digital device. Such as iPhone 13 Pro Max, iPad Air/Pro/mini, etc. Transcode camera/camcorder footage to any editing software, including FCP X, iMovie, Vegags Pro, Premiere Pro, etc. Encode MXF/MOV/MP4/MTS to any video codec, including H.264, H.265, MPEG, ProRes, AIC, DNxHD, etc.
Besides converting Stereo to 5.1 surround sound, this great program supports converting downloaded music to stereo as well like convert 5.1 to MP3 Stereo. In addition, this all-in-one video/audio converter has the functions to rip Blu-ray/DVD to any video/audio format, convert video to common audio format, convert downloaded 4K movies to 1080P for playing on tablet, smart tv and smartphone. The video to audio, audio to audio conversion function is totally free.
Stereo to 5.1 Converter : Input/Output File Format Supported
| | |
| --- | --- |
| Video | Blu-ray disc, Blu-ray ISO, Blu-ray folder, DVD disc, DVD ISO/IFO, DVD folder, AVI, MKV, MP4, MOV, M4V, etc. |
| Video | MP4, AVI, MKV, MOV, FLV, F4V, DivX, XviD, M4V, WMV, VOB, MPG, TS, ASF, DV, SWF, 3G2, 3GPP, 3GP etc. |
1. Get top Stereo to 5.1 surround covnerter
Free download the best free Stereo to 5.1 converter – Acrok Video Conveter Ultimate (for Windows, for Mac), install and run this free video to audio converter, audio to audio converter, the following interface will pop up.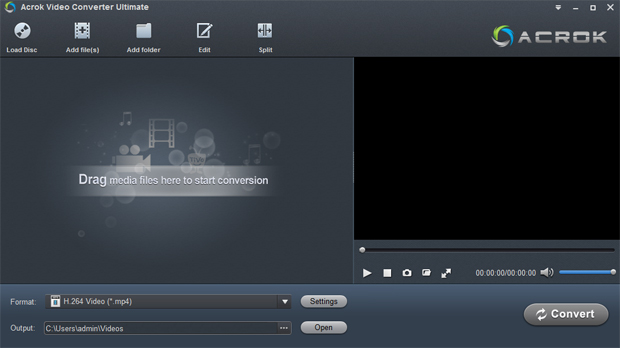 2. Load stereo audio or video files
Click "Add File" to load video or stereo sound file or simply drag and drop it to this best Stereo to 5.1 converter. Batch conversion is available.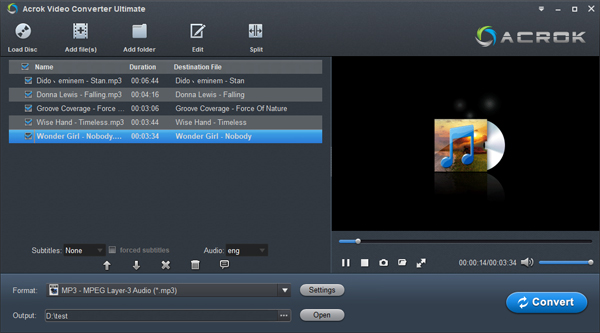 Interface of Stereo to 5.1 Converter
2. Select output format and settings
A: For conveing video and stereo audio to 5.1 surround audio, please click "Format" > "Common Audio" then select "AAC – Advanced Audio Coding (*.aac)" as output format.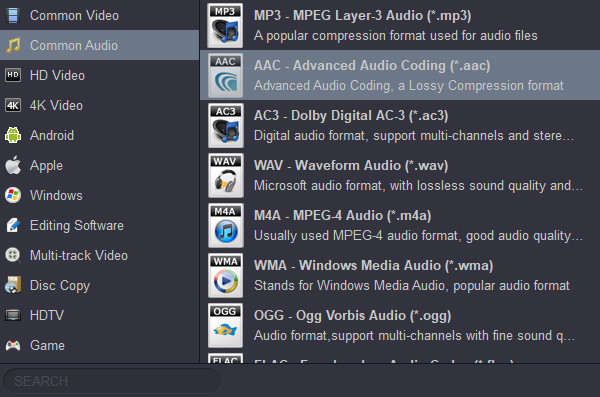 Click "Setting…" button to select "5.1 Channel" in "Channesl" column.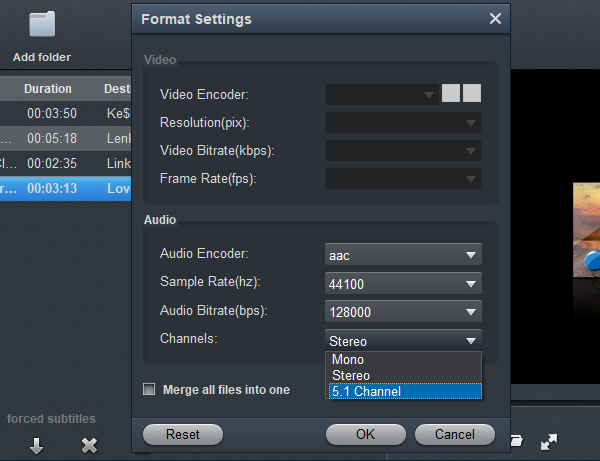 B: For converting Blu-ray, DVD, MKV, AVI, MOV, MP4 and WMV files to 5.1 surround video, please select H.265 MP4 asputput format. You can get this profile under "Common Video" category.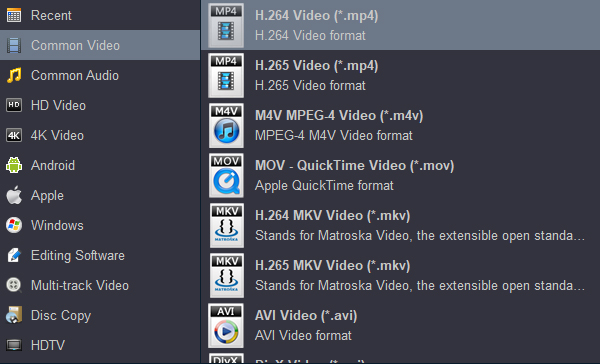 You can click settings button to adjust output parameters, such as resolution, bitrate, and adjust audio to 5.1 channels Dolby Digital.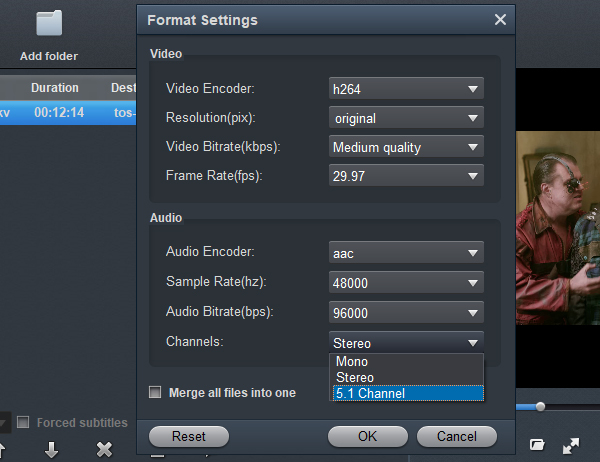 3. Start conversion
Click the "Comvert" button at the right bottom side, and complete Stereo to 5.1 conversion.
Conclusion
5.1 is the most common option for getting a home theater audio experience. By reading the above content, I believe you have learned how to make 5.1 channel audio with Acrok software. As a free Stereo to 5.1 Converter, it can not only convert all kinds of audio and video for free, but also crack the latest Blu ray disc. The success of 3D films in cinemas has convinced media companies that the technology could also be a hit with home viewers. With Acrok software, you can convert 2D movies to 3D too.