How to import Sony/Panasonic/Canon MXF into After Effects CC?
Does After Effects CC work with 4K MXF footage? Some say yes and some say no. MXF footage captured by Sony, Panasonic and Canon is quite different with those by JVC, and incompatibility exists among different camcorder manufacturers. For importing and editing any MXF files in After Effects CC smoothly, you need to do some preliminary work.
MXF is an industry-standard file format for video and audio. This information, also called metadata, can include frame rate, frame size, creation date, and custom data added by a camera operator, an assistant, or an archivist. MXF file can contain several different compression formats in a single file, such as MPEG-2, MPEG-4, XAVC, XAVC I/L, AVC-Intra, Canon XF, DNxHD, XDCAM MPEG2, DNxHR, etc. Many Sony, Panasonic, Canon, JVC camcorder can record MXF format and you may need to import into After Effects CC to edit together and work on as you desire. Although the file format is standard, you may sometimes can't import MXF to After Effects CC due to some unknown problems.
After Effects is a digital visual effects, motion graphics, and compositing application developed by Adobe Systems and used in the post-production process of film making, video games and television production. Four years ago, at the end of 2017, analysts pegged the number of CC paid subscribers at 12 million. So, updating for year-end 2021, this gives an estimated new total of 25+ million subscribers. It is a powerful video post production software, but it still has video compatibility problems. Although Adobe claimed that After Effects offers native MXF support, there are still some video, audio codec problems while importing MXF footage into After Effects CC for further editing. Plus, even the After Effects can ingest your MXF videos directly, it takes a long time for rendering. So what's the matter? How to solve this problem?
Actually, the simplest and fastest way to solve the above mentioned problem is converting MXF to After Effects preferred editing format, such as MP4, MOV, MPG and WMV. Which format is the best video format for editing in After Effects CC. You don't have to worry too much about this problem, our goal is to be able to smoothly edit our material in the video editing software. I think it's more important to choose which software to convert these videos. Here comes Acrok Video Converter Ultimate to help you out. This MXF to After Effects Converter features full supports for almost all Sony, Panasonic and Canon cameras/camcorders, including Sony VENICE, Panasonic AJ-PX5100, Canon EOS C300 Mark III and so on. It converts MXF files to H.264 MP4, H.264 MOV, mpwg-2 MPG and wmv3 WMV for using in After Effects CC without visible quality loss and ensures audio and video in perfect synchronization. If you are Mac user, please try Acrok Video Converter Ultimate for Mac.
Free download and try MXF to After Effects CC Converter
How to Convert MXF to After Effects CC Without Any Trouble?
Note that the quick start guide below uses Acrok Video Converter Ultimate for Windows (Including Windows 10) screenshots. The way to finish your task on macOS is the same. Just get the right version and follow the intuitive interface to get it done.
Step 1: Load MXF files
Install and launch the best MXF to After Effect converter, click the Add file icon to select the MXF files you want to convert from the video list. You can directly drag and drop the MXF videos to the program. (Note: batch conversion is supported, so you can load more than one file to save time.)
Step 2: Set output format for After Effect CC
Move the mouse to click the Format bar of the program window, from the target box and select the Editing Software tab, choose MOV, MPG or WMV in the right sidebar as the output option. If you want to convert 4K MXF to 4K video for editing, please select 4K MP4 or 4K MOV under 4K Video category.
Step 3: Edit MXF Video
Pavtube MXF Converter is not only a MXF Converter program, but also a simple and easy video editor. By default the Edit icon is grayed out. To activate the Edit menu, you have to select an item first. When a video file is selected, you can click the Edit icon on the tool bar of main interface to edit selected file. You can do some simple editing according to your own needs.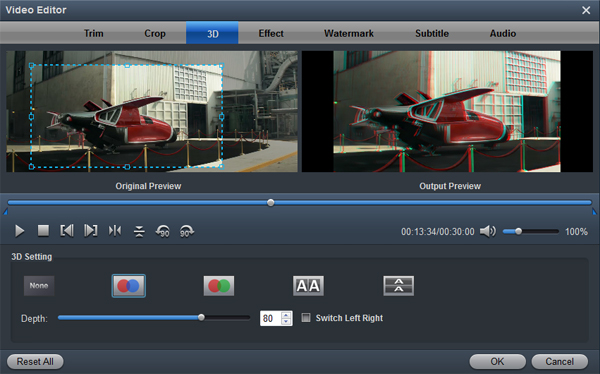 Step 4: Start Video Conversion
As soon as all the above settings are completed, you can press Convert button to start MXF video conversion. After conversion is done, simply click Open button to find generated H.264, MPEG-2, WMV3 codec encoded videos which are ready for post-production like editing and rendering Sony, Panasonic and Canon MXF files in After Effects CC without any trouble.
The Bottom Line
To achieve the goal of editing MXF in After Effects CC, you can try the best solution above. Acrok Video Converter Ultimate, which can help you simply and professionally convert MXF to After Effects CC supported format and codec. In addition to the advantages mentioned in the previous section, this program also allows you to clip, crop the video before conversion, make a 3D video, even convert Blu-ray and DVD for getting more enjoyment. Not need to worry about the high usage of the CPU or the conversion speed, it can be accelerated if enable hardware acceleration.